Moeller Sensei's Book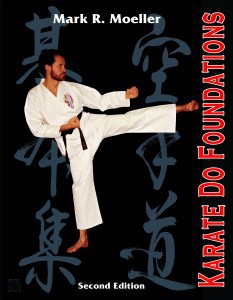 Excerpt from the back cover of Karate-do Foundations:
The study of Karate-do is more than a way to learn self-defense or get in shape – it is a way of life, and Karate-do Foundations is also more than just a karate how-to book. Using detailed descriptions and hundreds of photographs, Moeller Sensei leads readers on a journey to understanding the martial art of Karate-Do.
The book includes chapters on stances, punches, blocks, kicks, two-person exercises and kata. These chapters explain the key principles necessary for practitioners at all levels to develop stronger and more effective techniques.
Moeller Sensei also includes inspiring stories about the teachers who influenced him, how karate training can touch all aspects of your life, and the Path of Interlocking Circles.
This book will help you begin to balance the spiritual and physical sides of your martial arts training.
Excerpts from the book:
The Benefits of Karate Training
The Importance of Kata
Published by Masters Press
Published May 1995
Second printing in 2011
209 pages, 7 x 10 paperback
Cost is US$20.00
Ordering Information:
This book is no longer available in stores, but copies may be obtained by sending a check for $27.00 (includes a $7.00 shipping charge) made payable to Mark Moeller to the following address:
Mark Moeller
360 Forest Hills Drive
Atlanta, GA 30342-2332
Please include your name, address, phone number and email address when you send in your request.
If you have any questions, please email mmoeller@taylorenglish.com.